Hank Zyp's activism honoured
May 30, 2011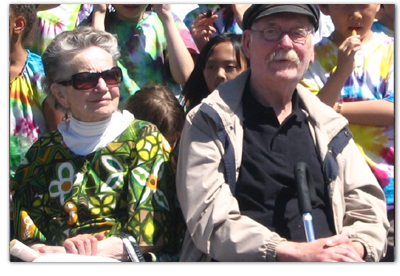 On May 13, 2011 Change for Children co-founder Hank Zyp received a SAGE Award in the category of social justice and peace. The SAGE awards celebrate seniors who inspire, empower and engage others in making our community, province, nation and world a better place.
The list of Hank and Tillie Zyp's achievements is long and impressive. It includes the founding of two NGOs: St. Joseph's Save the Children Club (now called Rainbow of Hope for Children) and Change for Children. Thirty-five years later, these organizations are thriving, proving ordinary people can make an extraordinary difference.
It includes a rich legacy of muralism: the 100-foot mural depicting 250 men and women of many times, races, nationalities and faiths who made a difference in the world, designed by Hank and executed in 1987 with the help of his commercial art students at St. Joseph Composite High School; Painting Peace Project (2000-01) that brought together Central American and Canadian youth; Edmonton Peace Mural, on the Salvation Army Building downtown, unveiled as part of Change for Children's 25th anniversary celebration, and the Children's Rights and Multiculturalism mural on St. Angela's School which celebrates the life of Ed Carson (1958-2008), one of the many students whose activism and artistic creativity Hank inspired.
Read Cecily Mills full article:
Hank Zyp's activism honoured by SAGE, Western Catholic Reporter, May 9, 2011