A Welcome Addition
September 1, 2015
Project Partner Hosts U of A Practicum Student
Funds raised at last year's Development Dinner fundraiser provided much-needed support for the Bolivia Better Nutrition, Better Learning project. This spring, the project received in-kind support from Alexandra Barras, a University of Alberta student in the School of Public Health who spent her three-month practicum working with project partner, Fundacion Renace.
Alexandra worked with communities to develop nutrition programs.She prepared workshops for the women's cooperatives and witnessed the feverish preparation of breakfasts in the food processing centres, for which many of you 'purchased' equipment during last year's Development Dinner live auction event. Your contribution is being put to good use, she attests:
Another day dawns in Alto Beni. This morning as we prepare for another workshop, I think of the women of this project who are waking up, tending to their children and then heading out to the fields or into kitchens. The greatest privilege of my time with Fundacion Renace has been meeting the women who produce the school breakfast and observing the distribution of it. In Sararia, one "sister", Tania Plata, spoke of the changes the project has made in her life and the solidarity between the women of the community: "Before the program, I was very different. Now, I am working. It was difficult to start, but I adapted to everything. After the flood disaster last year, my farm was swept away, but the other providers helped me to continue to work." It is evident that this project has brought together the women of these isolated communities and impacted their lives and the lives of their children for the better.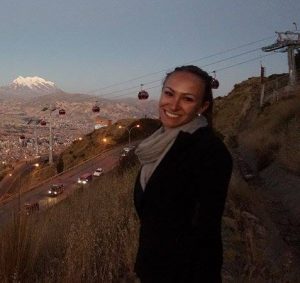 "I have thoroughly enjoyed my practicum in Bolivia. The organization is wonderful, the work is interesting and the project is a fine example of good community development! As a global health student, I am grateful for the opportunity to work with this organization."