The Eyewitness Account of it
November 26, 2015 by Nicole Farn

I am nervous. I am not sure why. Or is it excitement disguised as nerves? Either way, I am sweating profusely. The dust we kick up as we walk the 100 yards down the dry, dirt road towards the community of San Carlos sticks to my freshly sunscreened skin. Nicaragua, the land of lakes and volcanoes…and rapidly disappearing topsoil.
I have been briefed. The people here, the 45 families, currently have sporadic access to water from a shallow well in a neighbouring community. Not close enough to be convenient. Not clean enough to be counted on. Not deep enough to give friends and neighbours unlimited access. And so, the people of San Carlos are only granted access every other day. And only for an hour.

I am well-versed in well drilling. Pedro, project partner Centro Humboldt's project engineer, draws me a sketch on a napkin a few days before. He explains the process—the drilling to a depth of at least 80 feet below the water table, the perforated casing, the gravel packing, the flushing, the works—and asks me which step I wish to observe. I am not picky.
I am prepared. Aren't I?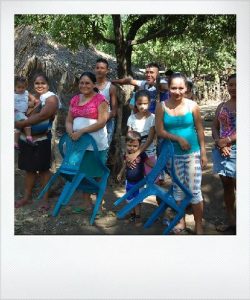 I am not. I am not prepared for the panic I feel upon arriving and seeing the drilling machine in place, reading the relief on the people that have gathered around in disbelief, and immediately knowing that my time here will undoubtedly be too brief.
I am aware that I am boasting a stupid expression. One that says I am ridiculously happy to be here to bear witness. And, I can't seem to wipe it away. I am not sure I want to. It is then that I choose to capture a little piece of that feeling for you!
The little hairs on my arms are standing on end now. I know my smile is too big and my words are too few, but I take my grin and my notebook and begin meeting, one by one, the community that has gathered. Like it's my job. I want to know their names. I want you to know their names!
People like Marilena and baby Hennessey. Together we watch as the drilling machine is positioned to lower the first well casing into the ground. The well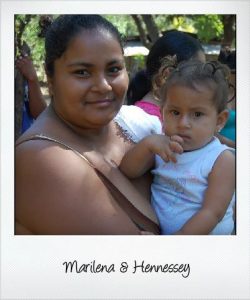 that will bring clean water and improved health to her family.
People like Angela. Sweet and kind, mother of four, and beyond thrilled to soon have reliable access to clean water. She welcomes me  into her home with a blessing, a hug, and a smile that won't soon be forgotten.
People like May Alejandra, Diomara Elizabeth, and Juana Marga, who form the Water Committee, elected by their peers, and tasked with ensuring the maintenance, the monitoring, and the upkeep of the new water system. Pedro introduces me to them and reveals in Spanish too quick for me to understand that this well has been financed by 'my people.' By you. I am hugged. And I am overwhelmed. And again, there go the little hairs on my arms.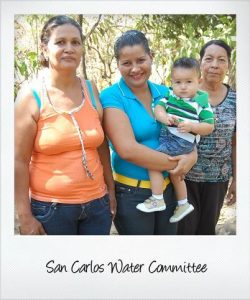 I receive blessings and well-wishes amounting to at least two or three for each of you if I could physically pass them around. And if I could, I would. And yet, I still don't master quite how to respond. Because what do you say? What do you say when you don't want to dismiss gratitude, yet are not seeking it.
The community is proud to take on this well. They are committed wholeheartedly, as a community, to respecting the resource, to protecting the source, and to sustaining the freedom that this opportunity affords them. I hear it in the impassioned speech of the many that come forward to express as much. I see it in the faces that smile, the heads that nod and the hands that cheer. I feel it.
Although it is time to leave, to head back down the dirt road, I stick around for a few more minutes to visit with Candida and Julia, 75 years old, born and raised right here in San Carlos. They giggle shyly and take my elbow to make sure I hear what they have to say.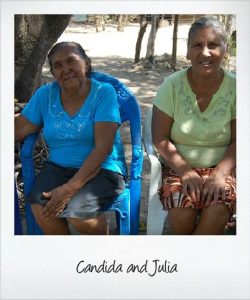 As some of the oldest members, they never thought they would be with water in the heart of the community. They motion to a baby on the lap of a young mom and point out, as if still processing it themselves, that the youngest members will now never know being without. And that's something. It feels like something pretty big. And I let it.
It is hard to describe the feeling of having someone I've only just met look me in the eyes, clasp my hands in theirs, and say my name. To use it in a sentence. To be asked when I am coming back and when I am bringing my friends. YOU. Because they, too, want you all to know firsthand that your kindness has reached them. And while I am prepared to be happy, and I am prepared to let myself be proud of our efforts, I am not fully prepared for the flood. Of emotion. When I realize I am still boasting the stupid look, that the hairs on my arms are still at attention and that I also now have a lump in my throat, I know it is game over.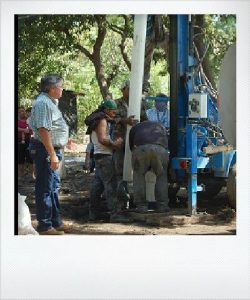 So, thank you! Thank you from me. Thank you from the people of San Carlos. I feel somehow ill-equipped to convey the reality that you have changed the today, the tomorrow, the world, for an entire community. Thank you for allowing me to be the vehicle to deliver our message. The eyes to bear witness. Thank you for the opportunity to confirm that we are all, in fact, connected. Or that we can be!
We make the return trip down the dirt road. The drilling rig is still clammering in the background, and I know that this story is not over yet. By week's end, water will be flowing from a hand pump. With the municipality on board, an electric pump will be installed shortly, and a future water tank will allow water to gravity feed to each home.
This story, this story is only just beginning. As I contemplate this, I almost don't notice the dust in the air, the dirt caked to my skin, or that I continue to sweat profusely. I almost don't notice that my cheeks hurt. From smiling.
Blog Central America and the Caribbean In The Field Nicaragua Nicole Farn Water