World Water Day means the World to these Women!
March 22, 2019
Well drilling combined with the distribution of technology and the dissemination of training through the Technology for Sustainable Resource Governance phase of the Nicaragua Water Project continues to address water scarcity with sustainable solutions.
Denixsa, Dominga, and Guadalupe – women who once felt left behind – tell us how this project has impacted their lives and has brought water within reach for their families and their communities.
World Water Day 2019: Leaving no one behind.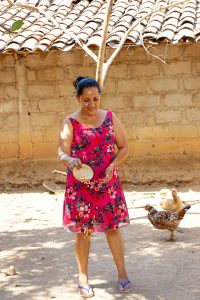 Information and communication technologies are making communication easier between Dominga Escalante, secretary of the local Community Water Committee (CWC) in the community of Santa Teresa, and the municipal officials of Somotillo, Chinandega.
"It is not easy to learn how to use the new technology, but it is important because communication can be instantaneous. You never stop learning. If this project trains us to use this technology, our communication will be modernized and our Water Committee as well. We can also look for information about water rights laws on the internet, solve difficulties through consultations, and schedule meetings."
Cell phones enhance water service by closing the communication gap and facilitating access to information.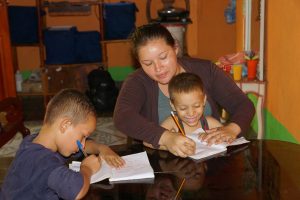 Denixsa is a young mother of two children, a preschool teacher and a nursing student, and she was recently elected Secretary of the Water Committee for her community of El Horcón. A partnership between Change for Children and the municipality means a community water well has recently been drilled in El Horcón, on land donated by Denixsa's family.
Denixsa's routine historically involved four hours each day to get the water needed for daily consumption.
"Before, water was scarce, the water well was far away and we had to carry buckets of water on our heads. To make matters worse, the well capacity was insufficient for the number of households dependent on it, and the situation got worse during the dry season. When that happened, we had to look for a puddle in the river to wash in and to look for water for drinking from sources further away."
Community water wells mean more time for work and for family and, for Denixsa, for spending time on her studies and with her two sons.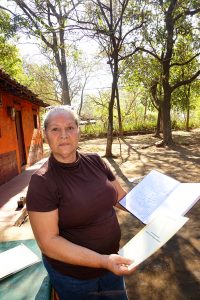 As an elected member of the municipal council, Guadalupe Centeno is well informed about municipal development plans.
Full of determination and not intimidated by the challenge, Guadalupe took on the task of seeking opportunities to bring water to the community of Pellizco Central.
Her efforts paid off and when Change for Children's partner organization working in the municipality responded to the plight. Today, there is a water well with an electric pump, a water tank, and piped distribution system that reaches every home.
"It has completely changed the lives of women. Nowadays, we do not go far to look for water, it comes to us! Truthfully, today I feel that my life has changed; the life of my family and of my community has changed completely. Pellizco Central has changed a lot. I feel that development has reached my community, because when there is electricity and water, there is development."
Access to water promotes economic development. 
Central America and the Caribbean In The Field Nicaragua Water