Miskito Indigenous Women Unite for their Rights
June 13, 2022 by Nicole Farn
It's evening in the BOSAWAS, and I write the unfamiliar (and lengthy) names of the women participants of the WIMPA assembly — a gathering of the Indigenous Women's Organization of the Upper Coco River — onto the impossibly small lines of individual nametags, while giving more thought than I've ever given before to the importance of identity. The importance of getting it right. Every letter. The importance of not only being given a name, but a voice, and the opportunity to use it.
In the morning, as each woman rises from her plastic chair to raise her hand, read her name into the record, and declare herself proudly present, I am glad to have taken the time. Every letter.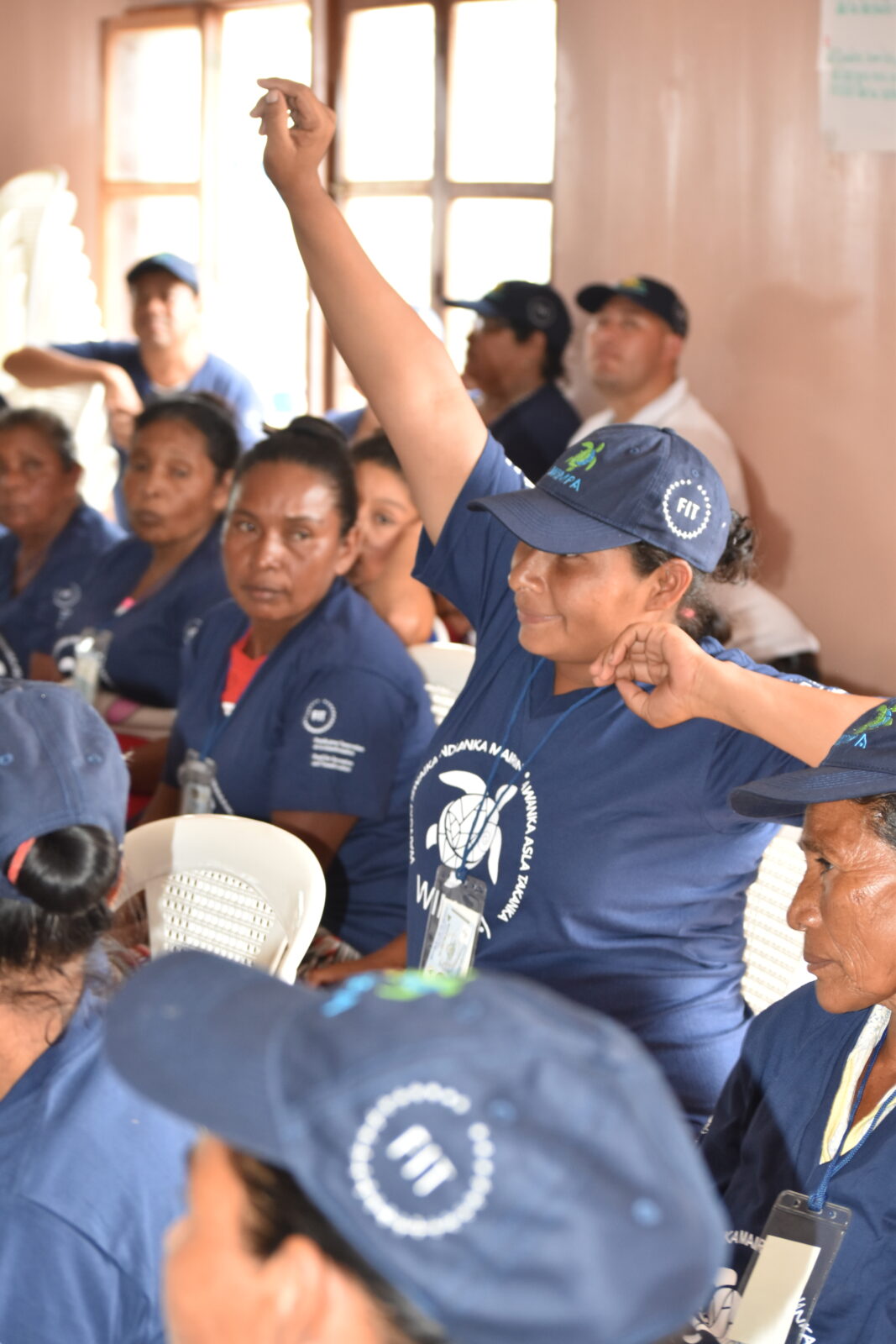 When Quelita, the group's presiding president, calls the meeting to order, it is the first time she has done so in more than a decade – the cost and burden to gather over 70 women representatives of the 38 Communities on the Nicaragua side of the Rio Coco in the BOSAWAS biosphere reserve having proved simply too great to continue without support like what has been provided today (an initiative of our new Fund for Innovation and Transformation (FIT)-funded project, Local Knowledge: Global Goals) to get the group back on its feet.
Along with the housekeeping items, welcome speeches, and acknowledgements that typically open a gathering (whether in a big city conference room or hours downriver off-grid in a rainforest), the women also establish a list of their own rules and expectations that I can't help but think also projects aspirations for outside these walls — topping the list: Everyone participates; Everyone is respected.
A few men (members of the Indigenous Territorial Government (GTI) and Change for Children project facilitators) are present on Day One to take part in the formal processes of introduction and ceremony, to bear witness to the election process establishing the group of directors entrusted by their equals to move the group forward, and to collectively learn from presenters from Nicaragua's Natural Medicine Practitioner's social enterprise (Isnaya). Men are distinctly absent on Day Two, and a space for women to connect solely with their peers is created.
In the morning, facilitated by Girl Rising, the women work in small groups, first mapping their own community's landmarks and then, with some hesitancy, identifying the potentially unsafe spaces for women — the secluded water source, one example. The locations vary by community, but X's mark the spot on each and every map.
Next comes the process of identifying priorities for their respective communities — what would help alleviate current challenges? How could the GTI be more supportive? What could the WIMPA pursue collectively to advocate for the rights of women and girls individually? The women are not short on ideas. They have, however, been short a platform to express them for far too long. It is for just such a reason that reviving the WIMPA is so important.
The paper chains, made by children and strung from the ceiling in this the largest meeting space in the San Andres school, dance as the afternoon rain shakes the roof and delivers some rainy-season predictability and familiarity into a weekend otherwise characterized for many by never-befores.
Never before had many of the women been invited to cast a vote.
Never before had many of the women been asked to provide their input in small groups.
To share ideas.
To envision the future.
Never before had many of the women crafted together. Bonded by the significance of the Turtle in the WIMPA logo (known for their calm yet survivalist natures and their inclination to right each other – flipping over a fellow turtle who finds itself on its back – working in cooperation over competition, a fitting metaphor), bracelets bearing this symbol are beaded during an afternoon break.
Never before had many of the women given a moment's thought to self-care.
While the idea of self-care is self-explanatory to those of us privileged with the time, space, and energy to pursue such a luxury, even on an infrequent basis, this concept is foreign to the group of giggling ladies asked to relax, to close their eyes, to simply breathe – in and out. In and out. And while a daily self-care practice is perhaps unrealistic with the demands placed on most of the women in the room, standing shoulder to shoulder, some with a child on their hip (clear evidence of the challenges of disconnecting from responsibility for even two days), together, if only briefly, the women give each other permission to demand some breathing room.
Never before had many of the women picked up a paintbrush, and done so for the shear purpose of flexing some creative muscle, no less. I gently re-direct more than one woman who is making only faint markings with a water soaked brush on her blank page to the adjacent pots of brightly-coloured paints provided for the art activity led by FUNARTE. A sign of innocent unfamiliarity or a fear of leaving an indelible mark? Either way, I make a mental note to be more grateful for my own creative outlets.
I wipe a blue dot of paint splatter from Benalissia's cheek, and she blushes, expressing that while she can read and write, this is her first time painting a picture. Having never been part of anything quite like this WIMPA assembly before, she is happy to represent her community.
This is a common theme I hear – the women here are proud to have been selected as representatives. They want to work together, to advocate stronger together, to take back their rights, to make sure that no one (not even the smallest community) is left out of the process, to ensure that the needs of women and girls are considered in decisions that affect their lives, and most importantly, to be included in decision-making processes.
Delina, the sole rep from her tiny community of San Juan (just 250 people) has made the trek. Small communities face obstacles, she tells me, and she wants to make sure that the girls in her community receive the same educational support as those in the larger communities.
Benita, once nervous to put a mark on the page, rushes over waving her own brightly coloured paper and proudly presents her masterpiece. She is radiating joy as she glides away to hang it on the wall with the others. I don't even care that I missed the photo op. Her smile is imprinted. Her pride is palpable. Her satisfaction a sweet ending to a day of firsts.
As hands are held during closing messages, even as an observer at the back of the room, I feel part of something – a new beginning, perhaps. A fresh start. I hope each of the women gathered feel it too.
Blog Bosawas Central America and the Caribbean Climate Change Education Food Sovereignty Gender Equality Health In The Field indigenous peoples Indigenous Peoples Nicaragua Nicole Farn Water Women Women/Gender